Sure, sure, summer is great. You're probably not in school, patio drinking is pretty awesome, there are way fewer BU kids on the B Line, and you can show everyone your underbutt in shorts. But everyone who's anyone in the Northeast knows that Fall is where it's at, so here's a list of things to get you excited if you aren't already.
1. Pumpkin EVERYTHING!
Pumpkin beer, pumpkin ice cream, pumpkin lattes, pumpkin donuts, and even regular-ass pumpkins–they're all pretty awesome, and though, like Christmas, the pumpkin-flavored-everything season seems to creep up 0n us earlier and earlier, there's no reason to be mad about this one. Sure, it's just a squash, but it's the best squash around.
2. Leaves!
Who didn't love jumping in hugantic piles of leaves, burying your friends, or trying to kill your dad by hiding in the pile he was raking and popping out to scare him? Admit it, you might be all grown up now, but you still go out of your way to shuffle through the fallen leaves that collect on the sidewalk before the city comes and sucks them all up. They're just so crunchy!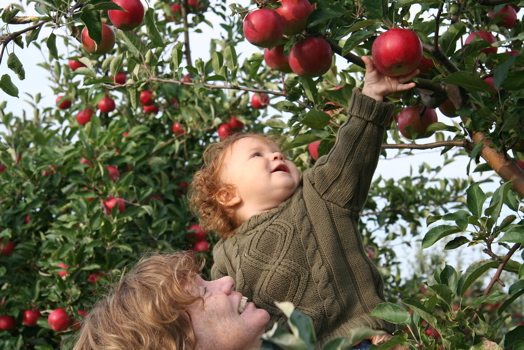 3. Apple Picking!
Unless you have ten roommates or plan to make a pie for everyone on campus, there's probably no reason for you to take home a 20-pound bag of apples. Still, you can enjoy a brisk walk through the orchard, and you probably won't go to jail if you eat a couple of apples straight off the trees.
4. Halloween! 
Once you start college, you've officially come out on the other side of the bell curve where you're no longer "too cool" to celebrate Halloween. Welcome back, we've missed you.
5. Cardigans!
Mr. Rogers wore them, so why shouldn't you? I like to pair my cardigans with my black-frame glasses for that extra-special collegiate look. Bonus: if your cardigan has elbow patches, I'm pretty sure everyone around you will think you're a PhD.
6. Not Being A Horrible Mess All of the Time!
Fall is pretty much the only season in Boston when you can walk from point A to B and make it to your destination without looking like a hot mess. In Spring, it will be windy and raining; in the Summer, you'll have sweated straight through your clothes; in the Winter, you'll never go outside. Enjoy it while you can.
7. Football! 
I am no expert on this one, but studies have shown that people like football. What do I know? I was only on the news to  talk about Tom Brady's hair.
8. Baseball!
I assume the Red Sox are doing well because of the sheer volume of drunk people that I have to battle like a salmon swimming upstream on my walk home from work. Remember that in some cultures, it's customary to set a car on fire if your city's baseball team wins the World Series.
9. Music!
Just because the weather's cooling down doesn't mean the scene isn't still hot (I hate myself.) This Fall, a bunch of sweet bands will be rolling through Boston. Treat yourself to some sweet tunes from Neko Case, Islands, Built to Spill, Kate Nash, and more–you earned it.
1o. It's Still Nice Out! 
The wind off the ocean, which we curse in the Spring, generally keeps Boston a few degrees warmer in the fall. Enjoy it while it lasts.