Some movies demand to be seen twice in order to understand just what's going on. But some movies don't make their demands compelling enough to be convincing. That's how I feel about Inherent Vice, Paul Thomas Anderson's adaptation of Thomas Pynchon's novel. I'm sure a second viewing would be illuminating about all the plot details and connections I lost track of on my first, but what would be the point? In order for me to put in the effort of understanding the details, I have to care about the bigger picture, and the movie didn't make me care enough.
Joaquin Phoenix is enjoyable to watch as stoner PI Doc, but I wasn't emotionally invested in him. In Anderson's The Master his raw emotion that broke through the opaque storytelling to get me to want to rewatch the movie and uncover its secrets, but Inherent Vice is always at emotional remove, sadness intellectually observed rather than felt. Maybe this wouldn't be such a big deal if the movie was funnier, but it's a disappointment on that front as well. The pile-up of mysteries is filled with dropped threads (from what I've heard, much was cut from the book in this regard), so those thrilling moments where plot threads intersect in unexpectedly clever ways are few and far between. Amidst the ensemble cast, Josh Brolin sticks out by virtue of having the funniest material to work with. If I'm not going to care about what's happening, making it funny goes a long way.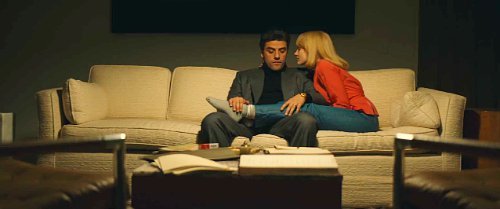 J.C. Chandor's A Most Violent Year, in contrast, is simple in its storytelling almost to a fault, but pulls through in its dramatic clarity and the intrigue of the one major question on its mind: can a man stay virtuous in a dirty business? That question recalls the original Godfather, as does the dark weighty cinematography, but Chandor's film is minimalist rather than epic (also, surprisingly minimal in its violence) and though Abel Morales suffers for involvement with the dark side, unlike Michael Corleone he never fully falls for it. Oscar Isaac makes Abel's decency of intentions utterly convincing while still hinting at the anger underneath; this is an actor just waiting for the right part to make him a star (will Star Wars do the trick?).
It's Abel's story, but A Most Violent Year might have been improved by spending more time with his wife Anna. Jessica Chastain's gangster's daughter steals the screen any time she's on it. She twists the "wife as voice of reason" by fully committing to the idea that, in this world, being a scumbag is often fully "reasonable." For most of the runtime, the film's an slow burn, maybe too slow given the simplicity of the action. With her around, it's electric.